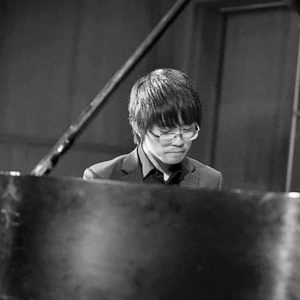 Seong-Hyang Kim, born in South Korea, accomplished his bachelor's degree of Music education and Piano Performance in South Korea and master's degree of Piano performance with Professor Michael Salmirs at State University of New York at Binghamton. When he has been in Binghamton, he also learned voice coaching from professor Mary Burgess and voice accompaniment from professor William Lawson. Under Dr. Jack Winerock at the University of Kansas, he accomplished doctoral degree in piano performance. During his doctoral period, he studied piano pedagogy with Dr. Scott Smith, MTNA President and chamber ensemble with Dr. Michael Kirkendoll.
Seong-Hyang played extensive piano repertoire, especially in romantic such as Chopin, Liszt and Rachmaninoff. His extraordinary sense of rubato technique, various colours of sound and wide dynamic range make his interpretation more "artistic". His expressive playing in virtuosity makes audiences impressive and exiting. He also has been accompanying for voice, choir and instrumental ensemble including piano ensemble over 15 years.
Seong-Hyang has huge interests in the piano pedagogy, particularly in the "how to avoid injury for pianist". He usually focuses on improving physical technique without injury and he uses various pedagogical theories for each student appropriately. In addition, as a piano teacher and educator with the great interest about piano pedagogy, he awarded the Special Certificate of Piano Pedagogy and the Certificate of Artist-teacher of Pianos Without Boarders at the University of Kansas.
 In S. Korea, Seong-Hyang won first prizes on many competitions, he appeared and performed on the KBS (Korea Broadcasting System), a radio channel FEBC, and performed at many concerts. As an accompanist, he accompanied on several voice master classes by famous singers including tenor Ki-Chun Park. In Binghamton, NY, he performed as the honored student in piano performance and he awarded the second place of the Binghamton University concerto competition. During doctoral degree, he gave several recitals and performed for master classes by Professor Boris Slutsky of Peabody Conservatory and Professor Robert McDonald of Julliard School.