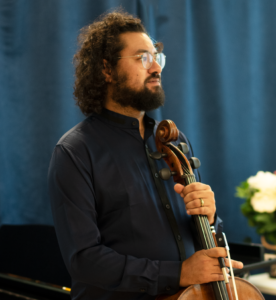 Born in Brazil, Jefferson Martins began his studies in the São Paulo Municipal School.
In 2008 Mr. Martins was appointed principal cello at São Paulo University Chamber Orchestra, during this time he had the opportunity to perform with respected musicians such as Leo Brower (Classical guitarist), Tim Fain (Philip Glass's violinist), Kirk Trevor ( conductor), and many more.
In 2013 Mr. Martins was featured as the Soloist with the Guarulhos orchestra after being awarded the first prize in the Soloist Competition 2013.
Mr. Martins attended masterclasses with renowned musicians such as Lynn Harrell, John Waltz (principal cellist at LA Opera), Ko Iwasaki, Martin Chalifour (Principal Concertmaster of the LA Phill), and Nathan Cole (Assistant Concertmaster of the LA Phill).
As a chamber musician, Mr. Martins was appointed as the cellist of the Olivier Toni String Quartet, a string quartet named after the Brazilian composer Oliver Toni whom he studied music interpretation . In 2015, Oliver Toni String Quartet won the Revelation Award Prize by the Arianna String Quartet. Consequently, the String Quartet was appointed for a Residency at the PRIMA Project (founded and directed by Alex Klein, Former Principal Oboe of Chicago Symphony) in Joao Pessoa – Brazil
During this time, all of the members of the Oliver Toni String Quartet taught private and group lessons for children and teenagers in eleven different cities; focusing on Strings, Chamber Music, and Orchestra.
With a full scholarship in 2015, Mr. Jefferson moved to California to study with Doctor Marek Szpakiewicz at Azusa Pacific University.
Since his residency in California, Mr. Martins has performed with renowned orchestras such as Irvine Symphony, Santa Monica Symphony, and Los Angeles Sinfonietta. Mr. Martins has also participated for three consecutive years in the Bach Week, a joined festival for students from APU, USC, UCLA, and CSULB under the tutelage of Prof. Midori Goto and Dr. Szpakiewicz.
Currently, Mr. Martins continues to perform in LA, Irvine, and Riverside areas while passionately educating at Vienna music institute, he has a Cello Studio Class in which students have the opportunity to improve their performance and training for auditions and competitions towards their levels