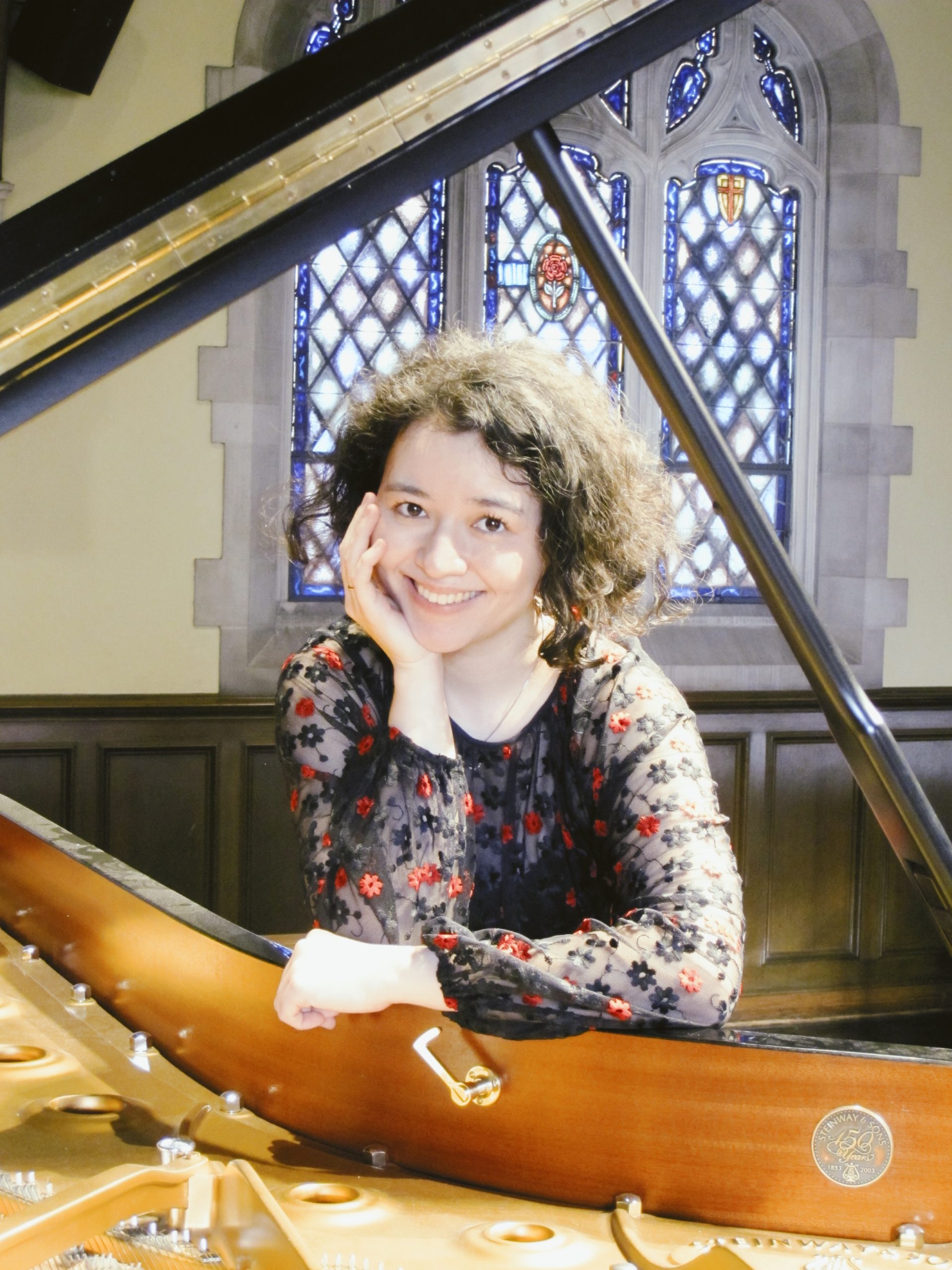 Born in a family of musicians in 1992, Evangeliya discovered piano at the early age of three. She gave her first concert with chamber orchestra when she was five. In 1998, she entered the Moscow Central Music School of the Moscow State Tchaikovsky Conservatory as a student of Professor Tamara Koloss. At the age of seven Evangeliya became a member of the International Vladimir Spivakov Charity Foundation. Being part of that society she has been performing in the best venues in Moscow, including all the halls of Moscow Conservatory, Moscow International Performing Arts Center, Tchaikovsky Concert Hall at the Moscow Philharmonic, Armory Chamber of Kremlin, The Pushkin State Museum of Fine Arts, Moscow State University, and Beethoven Concert Hall in the Bolshoi Theatre.
Since 2010 Evangeliya has studied at the Moscow State Tchaikovsky Conservatory with Professor Ludmila Roschina, where she has finished her Bachelor's and Master's Degree in Piano Performance. In 2017 she got her two-year postgraduate degree which is equivalent to American Doctor in Arts. After that she got Full Tuition Scholarship at the International Center for Music at Park University, Missouri and in 2020 pursued Graduate Certificate in Piano Performance under Van Cliburn Gold Medalist Stanislav Ioudenitch.
In 2021 she was admitted to the USC Thornton School of Music to pursue Doctor of Music Arts in Piano Performance as a student of Professor Stewart Gordon.
In addition to her formal studies, she has taken part in master classes with international artists and professors such as Mikhail Voskresensky, William Grant, Dang Thai, Vladimir Viardo and Jan Jiracek von Arnim.

Evangeliya is Semi-Finalist with Honorable Mention of the NTD International Piano Competition in New-York in 2019, participant of the Los-Angeles International Piano Competition in 2018, Rose Award Scholarship Winner of Kansas City Alumnae Chapter Sigma Alpha Iota Competition in 2018, Kansas City Musical Club Sholarship Winner in 2018, 3rd Prize Winner of the 22rd International Piano Ennio Porrino in Cagliari, Italy in 2013, 2nd Prize Winner of the International Piano Competition for Young Musicians in Enschede, Netherlands in 2006, the laureate of International Programme UNESCO "Young Virtuoso of XXI Century".
As a collaborative pianist she was taking a part in international competitions such as II Russian National Competition in Moscow, XV Tchaikovsky Violin International Competition, Hudson Valley Competition, Frances Walton Competition, Elmar Oliveira International Violin Competition, Naumburg International Violin Competition, Young Artists National Competition in New York.
Evangeliya has been playing in prestigious venues for classical music performances such as Alfred Cortot Hall and Hall Theatre du Chatelet in Paris, Hall of the palace the UN in Geneva, Enschede's Musical Center in Netherlands, Italian Conservatorio di Musica "Giovanni Pierluigi da Palestrina" in Cagliari, Latvian Academy of Music in Riga, Lithuanian National Philharmonic Society in Vilnius, Austrian Russian Culture Institute in Vienna, Athens Conservatoire in Greece, The Embassy of Russian Federation in Tokyo, The Embassy of Russian Federation in Washington, D.C., Baruch Performing Arts Center in New York, Zipper Hall of the Colburn School in Los-Angeles, Amarnick-Goldstein Concert Hall in Boca Raton (FL), Historical Raymond Theatre (WA).

Also she is a constant partner and collaborative pianist of her husband Igor Khukhua, the violinist with worldwide recognition.
Other career highlights include appearance live on the Kansas Public Radio and on Seattle's Classical music radio station, Classical KING-FM 98.1. Evangeliya was a member of jury of the Musica Piano Competition in 2019.
She has been employed as collaborative pianist at the Moscow State Bolshoi Ballet Academy of Choreography and as accompanist at the Vocal Department of the Moscow State Tchaikovsky Conservatory.

She speaks Russian (native), and is fluent in English, German and Greek.