2018 Fall Session Auditions coming up soon! Saturday, September 1st 2pm-6pm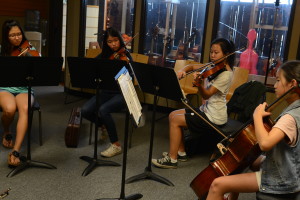 Vienna Music Institute (VMI) is proud to offer our Chamber Ensemble Program. Primarily focused towards string students, the VMI Chamber Ensemble Program groups students into a small ensemble, generally a standard string quartet (2 violins, 1 viola, & 1 cello). However, we make or source high-quality musical arrangements for any combination of young musicians (2 violins & 2 cellos or 4 cellos, etc.).
How it works: Students will be assigned to a group based on their skill level and age. Each group will have its own assigned VMI faculty coach, and will have a weekly coaching session at a regular time that accommodates the schedules of all involved. Because our students often have busy lives, scheduling this weekly rehearsal can be challenging; therefore VMI kindly requests you give multiple available times when you register.
Benefits: Unlike playing in an orchestra, each student plays his or her own unique part. This means students are more exposed and therefore challenged to be completely responsible for their own correct intonation, rhythm, and dynamics. Additionally, playing with a small number of other musicians, without a conductor directing, helps students deepen their ability to communicate with each other musically and to lead. It is one of the best ways to improve ensemble playing and build relationships with other students and families. There is something very special about chamber music which inspires and motivates a young musician to practice more… not to mention, it is also really fun and rewarding!
Requirements: Students of all ages and levels are welcome to register.
Registration: Please call VMI at (949) 651-8030 to register. If possible, please give multiple available times for the weekly coaching; this will increase your chances of a group placement. Placement in a group is unfortunately not guaranteed because of scheduling constraints.
Audition: Prepare a solo piece of your choice and prepare scales based on your ability (from 1 to 4 octaves). Please call us to schedule an audition on Saturday, September 1st between 2pm and 6pm for the Fall 2018 session.
Rehearsals: Weekly rehearsals will start around the 4th week of September (starting dates will vary by group).
Tuition & Fees: The tuition is $380 for 10 coaching sessions, which includes the December concert venue rental fee. If a group needs more coaching to be prepared for the concert, any additional sessions will be charged separately ($35/session).
Concert Information: The Fall session concert will be held at Laguna Niguel Presbyterian Church on Sunday, December 9th, 2018. The Spring session concert will be Sunday, June 2nd, 2019.
Competitions: There is an opportunity each summer for groups to compete in the Ensemble category of the Southwestern Youth Music Festival (SYMF) competition. Students interested may opt to enter that competition, with agreement from all members.
Responsibilities: Since a chamber group requires all members to be present, it is very important not to miss any coaching sessions. If everyone can agree to do a make-up (including your coach), a make-up session can be scheduled, but since this is not guaranteed, please plan to commit to all regular rehearsals and the concert.
Commitment: Before registering, students must make a commitment to attend all rehearsals as well as the final concert. Should you miss the concert or a rehearsal, you are inconveniencing the rest of the group as well as forfeiting their participation in the final concert. If you are unable to commit to the Concert times, please DO NOT register.
**There will be no refunds**