Prepare your children for instrumental study with VMI's new Music and Movement Classes for Children!
August 5, 2017, 11:00–11:45am at Vienna Music Institute, in the Concert Hall.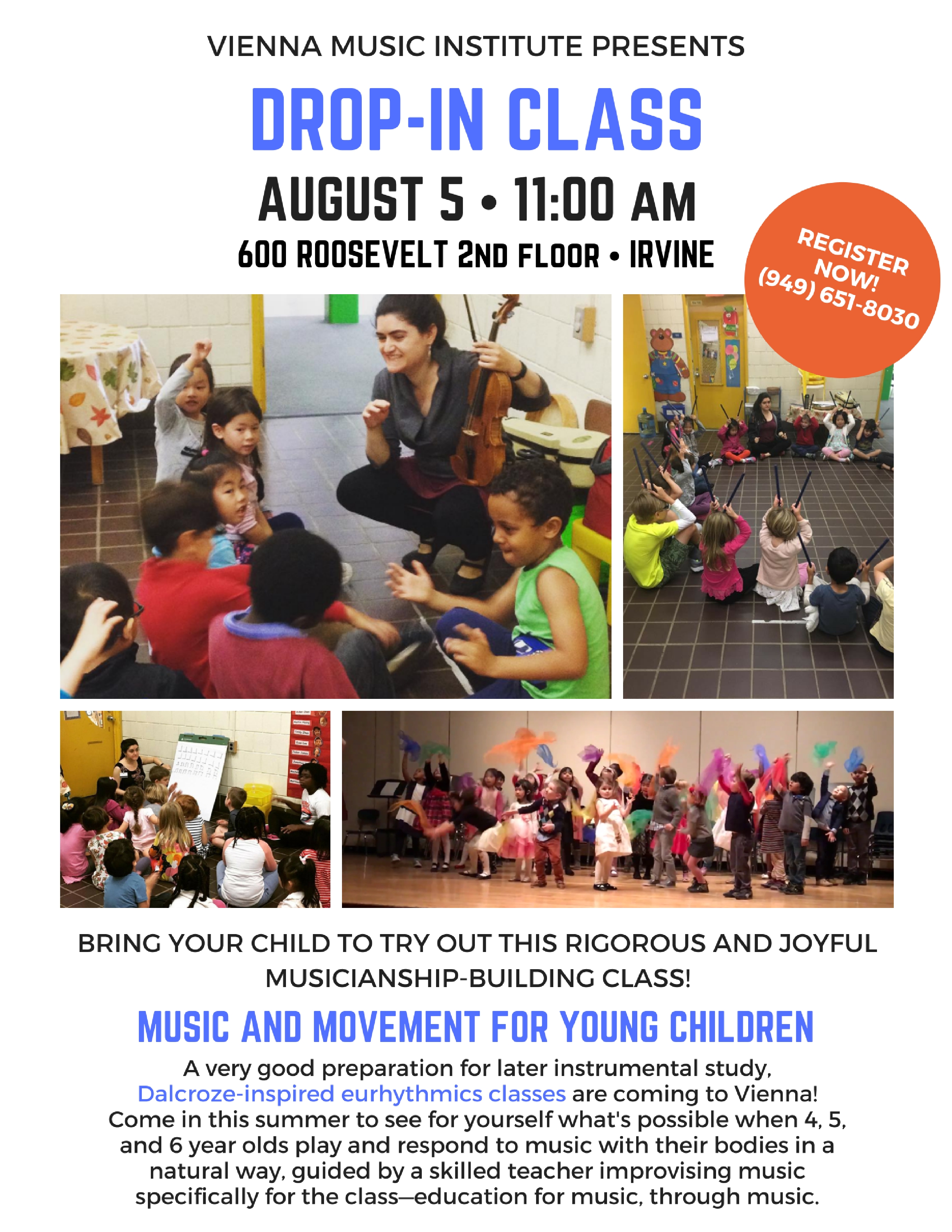 Register now by calling (949) 651-8030 between 2:30―7:30 P.M. Monday through Friday
The class is free. Registration is required to ensure we have space for all participants.
How long is the class?
Forty-five minutes.
How old should my child be to participate?
At least 4 years old. The class will be oriented towards 4, 5, and 6 year olds. Children 7 or 8 years old are also welcome if they would like, but should know that the multi-week classes in the fall will be leveled by age, and therefore better adapted to challenge them.
What should my child bring?
Please have them wear comfortable clothing for movement, and be prepared to take shoes and socks off for the class to move safely. We will be active throughout the class, so you may want to bring a water bottle and snack (we will not have a break during the class—please plan to do any eating/drinking/bathroom before, or after). Children do not need any instruments or toys to participate in the class—we will provide everything.
Can parents observe?
Yes! You are welcome to sit and watch the class, and may be invited to join in some activities. Sylvia will be available after for questions about the Dalcroze-inspired approach used.
What is the fee to participate?
The class is free of charge. Come join us to get a taste of the weekly group classes that will be available in the fall.
Does my child need to have studied music before to participate?
No, it is not required. The teacher has designed the class to be beginner-level, an early experience in music training to prepare later study of an instrument. However, students who have studied music previously are still welcome and will definitely learn something—this method is used to train experienced conservatory students as well as the youngest beginners, adapted to the capabilities and experience of each student.
What is the structure of the class? What should we expect?
All the children who attend the class will do a variety of musical activities together as a whole group, in individual turns, and in pairs or small groups at different points in the class. Some moments will be experiential, moving the whole body to music improvised by the teacher; some will be cognitive, applying an experience from a few minutes before to (e.g.) visual notation. The children will be met where they are as learners, and carefully challenged to apply full-body experiences and familiar movements from life (throwing a ball, picking strawberries, swimming, etc.) to their understanding of music, in a joyful way. We will sing, listen, clap, move, and have the opportunity to contribute individual ideas to the group activity.
Where is the class?
Vienna Music Institute, 600 Roosevelt, Irvine, 2nd floor; in the Concert Hall, which is to the right and all the way down from the main lobby.
---
About the Teacher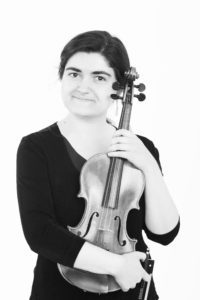 Fascinated and deeply inspired by the relationship between music, movement, and dance, violinist and Dalcroze teacher-in-training Sylvia Schwartz is a passionate chamber musician in both modern and historical performance practices. A native of Boston, Massachusetts and recent transplant to Orange County, Sylvia performs currently with L'Esprit Baroque chamber ensemble based in Fountain Valley and has performed with the Harvard Baroque Chamber Orchestra, New Bedford Symphony Orchestra, Eudaimonia Baroque chamber orchestra, the folk/baroque band Lizzie and the Flakjackets, and the prog/alt rock band The Mood Swings. She is an alumna of: Lyricafest; Dana Maiben's baroque violin intensive; the Olin Conductorless Orchestra, of which she was Concertmaster; the Boston University Tanglewood Institute; and the Boston Youth Symphony Orchestras. As a chamber and orchestral musician she has performed in Boston, Los Angeles, San Francisco, Maine, Ontario, Estonia, Latvia, and Shostakovich Hall in St. Petersburg, Russia. She has performed recitals extensively in the Boston area. She has also been a member of the Harvard Summer Chorus, Chorus pro Musica, and The Masterworks Chorale.
Sylvia holds a Master of Music in Violin Performance from the Longy School of Music, where she studied with Laura Bossert and coached extensively with Early Music performance faculty. Sylvia is pleased to join the faculty of Vienna Music Institute. In Boston, she was a faculty member of the Josiah Quincy Orchestra Program, GS Music Center, Music 101, and the Winchester Community Music School, where she was also Administrative Director of the WCMS Summer Chamber Music Festival.